Calandra in the Press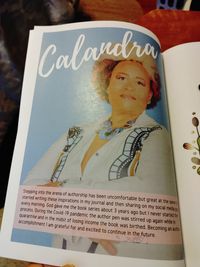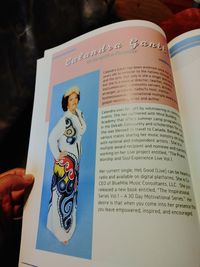 Check out my article in Good Deeds Magazine
Check my interview to learn more about my start, trials and purpose in my career.
http://voyageatl.com/interview/check-out-calandra-gantts-story/
Sylvia Camille   •  Douglasville, Ga
Hi Princess of Praise,
Your ministry is a blessing to all. May God continue to bless and keep you!! I enjoyed your Pre-release album concert.
Praise Him!!!
Dec 18 2014, 8:25PM
Da Diva Cuz   •  College Park, GA
Girl,

Surfing the net and stumbled upon your phenomenal page. I find your attributes to be Passionate with Praise woven with Prayer and the Perfect ingredients that you bring to our family village near and far. God knows the plans HE has for you...truly, "God has smiled on YOU." Continue to be not just a voice ...rather be "The Voice" that ministers to the lost and melodically leads them to our Father which art in heaven. Some good ole Preaching would really be the joy that leads to salvation.
Much respect and LOVE
Aug 29 2013, 3:17AM
keijo   •  sweden
god we will praise and sing for his glory and living for his glory and be thankful for salvation in Jesus blood with born of the Holy Spirit in wonderful pleasure daily to joy ,thanks and bless and pray,keijo sweden
Aug 15 2013, 11:18AM
Bishop Ignatius   •  Kenya,East Africa
You are blessing.Keep praising God.Africa is waiting for you!!!
Aug 8 2013, 5:41PM
Reunion Ministry   •  Charlotte, NC
I like your site and ministry.Keep working for Jesus
Dec 23 2010, 1:50AM
sihanoukville   •  sihanoukville, cambodia
Your website is good . Thank you very much this website show you about bar for sale in Sihanouk ville, Cambodia . see you again from .www.sihanoukville.in
Nov 26 2009, 6:41PM
Freddie Howard   •  Beatrice, AL
We will being doing our Concert on Oct 16, 2010
We will be performing for the first time on keyboard.
Will let you Know the Place soon. God Bless.
Thank you/freddie
Sep 12 2009, 3:26AM
Doug Patterson   •  Fort Rucker Alabama
Love your Music! Be Blessed!
Sep 9 2009, 2:07PM
Brandon   •  Atlanta, GA
Hey Calandra, this is the ONE and ONLY Baby Boy . Wishing you much success in your ministry ... And waiting on that big contract so I dont have to work any more .
Much Love, Brandon & Family
Aug 19 2009, 12:05PM
Jamika Brown   •  www.niapagesii.com
Praise God!
Calandra, I am so happy for you!
May God continue to bless and keep you. I am anxiously waiting the third album 
Aug 19 2009, 6:29AM
Marcus Smith   •  H.O.T.D.O.N.U.T.S.
Hey Calandra!!!!!
Congrats to you for all the things that God is doing through your ministry. Working with you has truly been an honor.
I pray that you continue to be a willing and submitted vessel for God's purpose.
(Philipians 3:10)
Aug 19 2009, 3:15AM
Quincy   •  Powder Springs, Ga
Obedience and dedication allow releases to take place! I roll out the red carpet for you because of your obedience and dedication to God and his will for you! Keep your eyes on God and your heart on Jesus, the best is ahead! Love you...
Aug 17 2009, 12:03PM
Jarvis   •  East Point, GA
Congratulations!!! I wish you much success in everything you do. May the Lord continue to bless you and your ministry.
Aug 14 2009, 10:03AM
dnc730   •  Fort Belvoir, Virginia
Hey Calandra. It's Destiny and I just want to wish you much continued success in your life and career.
Eric Kirksey   •  Bedford, Ohio
Thank you WOG for the soft message which took me into the Mountain of God. A timely message in God's own time. Love to bring your ministry to our facility and to the people here at EXCEL CHURCH. God Bless
The International Music Association in Conjunction with the Prayze Factor People's Choice Awards would like to present the Official Winners list from Season 10 as well as the Special Recognition presented during the Prayze Factor's Weekend of Celebration... #prayzefactorawards10 www.prayzefactorawards.com www.jointima.org
PRAISE AND WORSHIP ARTISTS of the Year
CALANDRA GANTT
 Check out Calandra on pages 34 and 35 in the Feb issue of Iconic Magazine. http://www.joomag.com/en/newsstand/iconic-feb-2015/0853448001422771918
THE NEW EDITION OF ICONIC IS HERE!!!!!!!!!!!!!!!!!! 1560 cities and 97 countries STRONG!! AND EXPOSED TO OVER 40,000 PLEASE READ AND SHARE, AMAZING EXPOSURE FOR INDIE, NEW, UP AND COMING AND NATIONAL RECORDING ARTIST
http://joom.ag/DxKb?f#.VNBSUM3CJxU.mailto

"Calandra has the talent and determination, but most importantly the anointing to be a success in the gospel music industry. She is truly a force to be reckoned with and I am honored that God has approved of our association to spread his message together."
James Roach, CEO - IQ Productions (Apr 11, 2003)

"Calandra Gantt's music is very inspirational. She sings under the anointing of God and the songs that she writes about comes from the word itself. This CD is for everyone that loves God. There is only one piece of advice that I can give and that is as long as she keeps God first, she will be a hit time after time..."
John Clark, bass guitarist - Generation 1 Band (Apr 10, 2003)

"Calandra Gantt has a voice of power and praise. She is truly one of God's anointed ministries of music. When she opens her mouth to sing, the angels in the heaven rejoice."
Jamika Benson, CEO - Nia Pages II (Apr 10, 2003)

"Calandra has a very soothing powerful voice. There is always a message in her music that demands attention. Calandra is very passionate about her music ministry...with her passion and her faith she will certaily do great things."

Omega Rogers, CEO - Forgettoremember (Apr 10, 2003)
DUBLIN PLAY"40 ACRES, WHO STOLE THE MULE?"

It's big and it's coming to Dublin GA
I'm speaking about the highly anticipated 80-city debut of the hit Gopsel play"40 acres, Who Stole the Mule?"
Saturday, April 15, at 7pm in the Theatre Dublin
314 Academy Avenue in beautiful downtown Dublin, GA
Also performing will be Atlanta's highly acclaimed gospel BMI recording artist Calandra and the Generation 1 Band.
You won't want to miss it.
One Dollar Enterprises - Radio Release (Apr 11, 2006)

Roanoke Branch NAACP
will hold their
Sixth Annual Citizen of the Year Awards Program
Gospel Extravaganza
Sunday, May 30, 2004
6:00pm in the Shaftman Performance Hall
Headline Performers include:
Nikki D and the Browns from Toledo, OH
Calandra Gantt from Atlanta, Ga
Larnell Starkey & The Spritual Seven from Wirtz,Va
Roanoke Branch NAACP - Roanoke Newspaper (May 30, 2004)